What we do
Data analytics and
customized

AI solutions for the industry
The Grain is a data science company focused on building AI applications for the industry.
Our mission is to make day-to-day tasks easier for planners, operators and engineers in supply chain, manufacturing, and maintenance & reliability.
We make analytics usable, scalable and visible in our clients' operations, so that they can make better informed decisions.
OUR SOLUTIONS
From data to actionable intelligence
From sourcing raw materials to the shipment of finished goods, we figure out where in the value chain analytics can best be used to maximize impact.
We all call it artificial intelligence, but what we really do is building solutions to provide you with real-time insights and actionable recommendations, helping you reach your operational goals.
How we do it
The journey towards AI in the real world.
OUR APPROACH
From idea to integrated solution.
Adopting an agile approach is the best way to quickly introduce artificial intelligence in your company. Explore analytics opportunities and define a business case through client workshops. Make a prototype, test, refine and validate its potential. Deploy and integrate the analytics solution into your processes. Scale and roll out for lasting impact. Rinse and repeat, until you reach operational excellence
WHY US
Combining industrial Intelligence and data science.
The way we combine industrial intelligence with our data science skills is what makes us unique: our starting point is your process, not the data. We know how assets work and our domain experts work with you to understand the specifics of your operations. Our data scientists use those insights to translate your business challenge into an analytical use case and ensure the right data and algorithms are used. We build models from scratch or configure our accelerator kits with pre-built model components to meet your specific needs – whichever will give you the best results.
REFERENCES
The Grain success stories
These clients have chosen The Grain. With our unique combination of in-depth industry knowledge and data science, we guarantee client satisfaction every time around. Our clients range from large corporations to small businesses and OEMs across a range of industries.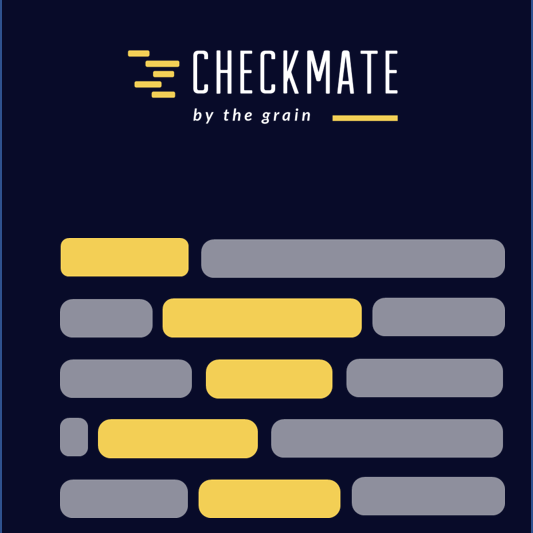 CHECKMATE
Production Planning & Scheduling Made Easy
We want to abstract away all complexity and give planners a toolkit to facilitate their day-to-day job. That's why we built Checkmate.
Get in touch
Questions?
Contact us
Get in touch by filling out the form below. We'll get back to you soon.